Functional Conductive Pastes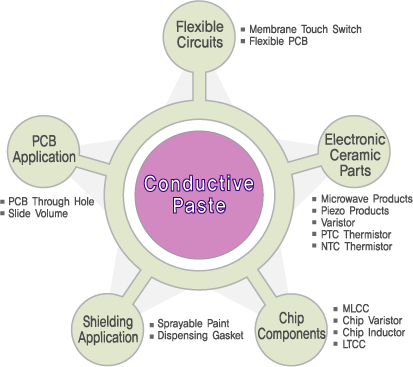 Functional pastes are composite materials with high flowability in which functional fillers, binders, and solvents are uniformly distributed. Metallic, ceramic, or carbon materials are selected as functional fillers depending on what the paste is used for. Glass frits or polymer resins are used as binders according to the substrate type and heat treatment temperature. The workability of the paste is determined based on the applied processes, which affect its fluid properties, such as printing, dipping, and dispensing.
We are supplying Chang Sung Corporation (CSC) Firing type paste which provides optimal sintering and resistance properties in a wide temperature range and for various substrates.
Applications:

Chip Inductors, MLCC, Silicon solar cells,
Piezo products, LTCC, SMD Inductors.

Types:

For Chip Components (Internal Electrode)
For Chip Components (External Electrode)
For Ceramics (PTC/PZT/TPC)
For LTC /HTCC